Common names are associated with entries in the specimen list and can be seen when the Identification View is active. This same list of common names is associated with taxonomic entries and can be seen in the Checklist View. In both cases you can quickly add, remove, and change these common names using the little popup window accessible by pressing the button just to the right of the list.
The three buttons along the top left of the popup window are for adding, removing, and saving changes made to a common name. The single button in the top right hand corner simply closes the popup window.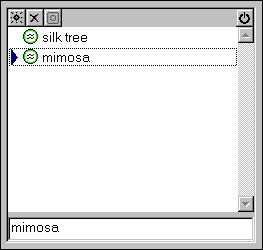 Changes made to this list will be visible in the Vernacular List where you can make additional changes to the name's detailed record.