| | |
| --- | --- |
| | |
| | |
| | |
| | |
| --- | --- |
| | The Category view is where you add and remove special values for each of the custom categories. |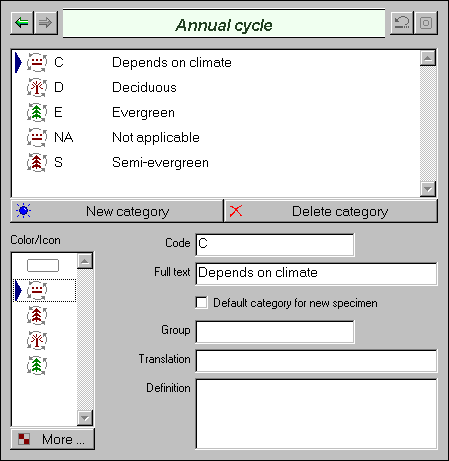 "The selected item"

Choose an existing entry from this list to modify its name, description, code, and icon/color.

Add a new category to the list.
Remove an existing category from the list.
Type the full name of the item here.
Enter a unique code here (from 1 to 6 characters) that will be used for fast data-entry.
Check this box and new specimen will automatically be assigned this value.
A group of items with similar concepts can be sorted in the category listings by assigning the same group name here. See for example the pre-installed items under plant parts, plant uses, and medicinal properties.
The Latin name for this English word, or the English name for this Latin word. This field is used mostly for leaves and flower categories.
The definition of the item. Obscure botanical Latin terms are explained here.
Select the icon to be associated with this item.

For color-coded categories, select a color here.

Use this button to see a full list of possible icons to assign to this category.
See also
Customizing your categories
Setting default values for new specimen records
Using codes as shortcuts in the category fields
Categories that allow free-form data entry
How do I specify more than one best use, desirable quality or adverse quality for a specimen?
Specifying climate zone ranges
Custom categories
For an index to other topics see
Using the Compleat Botanica
Last reviewed March 25, 2004