Properly spelled botanical names are the key to unlocking the vast collection of data available about the Plant Kingdom.
The Compleat Botanica's spell-checker ensures that names are properly spelled at the time of entry. It works automatically, highlighting misspellings with a red wavy proofreader's mark. The botanical checklist contains a comprehensive collection of family names, genus names, species epithets, subspecies names, and varieties. The botanical checklist contains entries for temperate, tropical, arctic and marine plants.
...........................................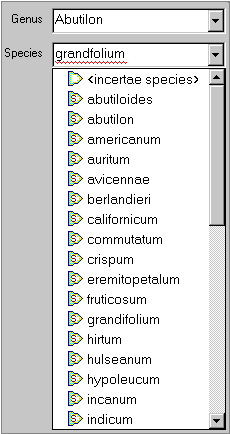 See these Pathfinder documents for more about this:
Understanding how the botanical name spell-checker works