Well written commentary is the cornerstone of every good documentary effort. But so much of what we record in our diaries, journals, notebooks, and databases is subject to repetitive entries describing what we've learned. In our paper-based efforts, this gives rise to common abbreviations: shortened words for locations, botanical terms, growing conditions, and other technical jargon. In today's graphic-rich computer centric world, abbreviations become icons.
The Compleat Botanica exploits the graphical power of today's computers and the high-resolution output of color printers, to eliminate abbreviations, and at the same time to make our collection of data more readable. Because graphics and icons are consistently shown throughout the software, a new lexicon can arise which replaces codes and abbreviations with iconic symbols.
...........................................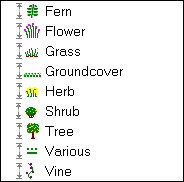 See these Pathfinder documents for more about this:
Getting the most out of the Specimen List
Setting default values for new specimen records